TEAM BUILDING ACTIVITES
New challenges, new ways in Team Building Activities. Communication, Vision Quest, Incentive, Creativity Training – ideas for companies and groups.
The company´s individual seminar content is combined with practical units out of Creativity, Communication and Management Training. The team members are asked to leave their comfort zone in order to break new ground.
For this, pleasurable methods from the areas of land art, body language, improvisation, theater, etc. are applied. In addition, elements from the outdoor and adventure sector bring variety, movement and intensive shared experiences.
Playful, diverse and always outside, we offer a tailor-made program for companies and their employees. It is about communication processes, target analyzes, creative processes, and topics such as resilience, ability to take criticism, motivation, mental strength, stress reduction and much more.
The incentives take place at consciously selected locations, where a common experience of nature is possible without distraction. We use nature and its own rules for Team Tuilding Activities and processes.
This unique and complex combination brings new challenges and shows ways to overcome them in a team.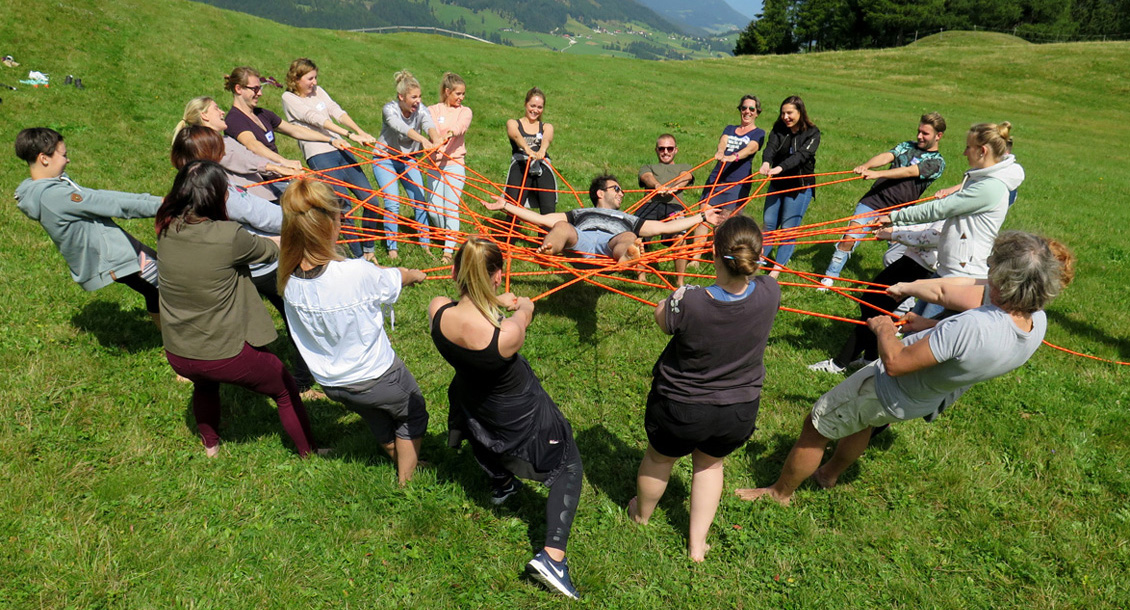 Our extraordinary incentives are created through the combination of nature experience, adventure elements and management training. We carry out the tailor-made programs in team teaching: with Mag. Barbara Weitzenböck as a qualified creativity trainer, art therapist and pedagogue, yoga teacher, hiking guide; and with Günter Burgsteiner as mountain and ski guide, canyoning guide, wellness trainer and personal coach.
Individual programs on individual appointment at individual locations. Worldwide and tailor-made. We would be happy to inform you about the possibilities of a Team Building Activities incentive for your company, your group.
Look at further offers relayed to personal development