HIKING TREKKING TRIPS
Travel on foot, crossing the Alps. Guided one-day and multi-day Hiking Trekking Trips in the Alpine region and around the world. For individuals, friends, families, companies.
Great insights and views and the special tranquility
Walking is probably the easiest and most silent way to get around. Especially when the path leads through an impressive landscape, through fairytale forests, over abandoned alpine pastures. Hiking gives you time to marvel, observe and slow down. With Hiking Trekking Trips you arrive step by step, to your destination as well as at yourself.
Landscapes and mountains are very diverse, so are the wishes and abilities of our guests. Therefore, our Hiking Trekking Trips are always individual. Depending on your personal preferences, we will take you on day-long hikes in the mountains of the entire Alpine regions, on hut trekking tours for several days from hut to hut, on treks across the Alps, or through the deserts and mountain ranges of this world for a more adventurous character.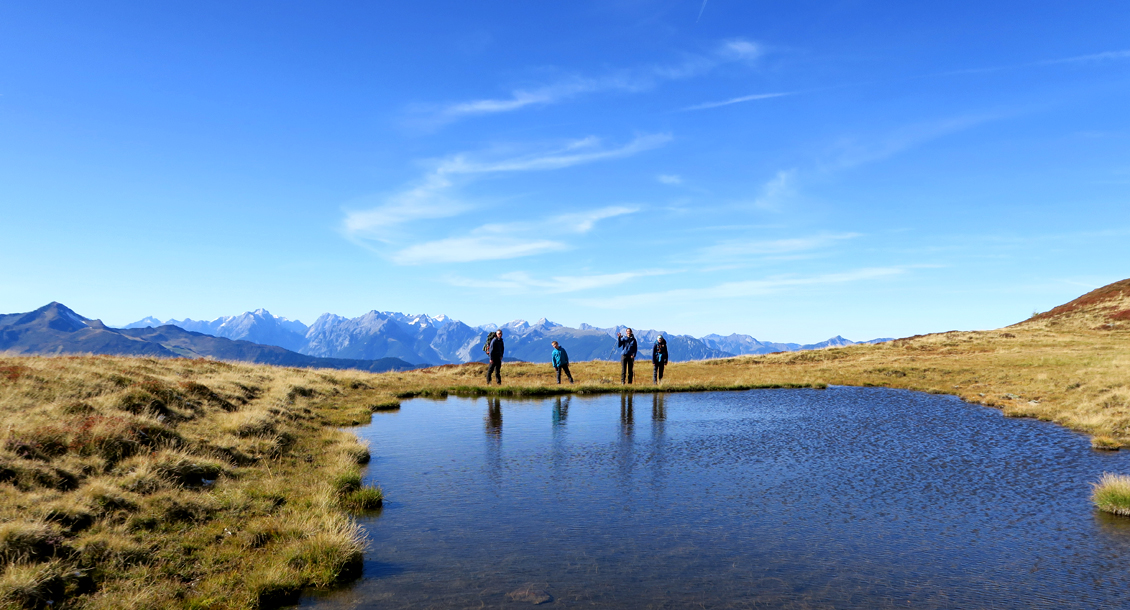 One-day hikes provide wonderful views and are guided individually – with and without the assistance of a mountain railway.
When hiking from hut to hut, you leave the worries of everyday life far below you, by the third day at the latest. In the alpine region with it´s diverse infrastructure, hut trekking is a great experience, especially on selected paths, in regions well away from the crowds.
During long-distance Hiking Trekking Trips all over the world, you immerse yourself intensively into the environment and experience people and culture in a particularly mindful way.
Once to the summit and back, around the mountains, across entire regions and hilly landscapes, crossing mountain ranges – we tailor your hiking tour according to your wishes and your fitness. Whether on hiking trails or away from the markings, whether with a tent or adventurously under the starry sky, or with comfort in a mountain hotel. All you need to do is take your time and bring your walking shoes.
But what exactly are the differences between hiking, mountaineering, climbing and trekking? And what exactly means to travel on foot?
Read more about this in our blog post …
Let us know your wish, we will be happy to accompany you on your hiking experience – as a tour operator in the organization and as a hiking and UIAGM Mountain Guide in the implementation.
Our tip: Hiking is particularly healthy because you move within the low heart rate range. The hiking guide, creativity trainer and passionate forest bather Barbara Weitzenböck will tell you how you can relax and even enjoy the flow experience while walking meditatively.