CANYONING TOUR
Jump, swim, rappel. A guided Canyoning Tour combines a unique summer nature experience with a pleasant cool down in the water and a manageable dose of challenge. For individuals, families, friends and companies.
Wherever there are mountains, there are also gorges. Over millions of years, the water streams have shaped marvelous natural canyons which we can explore today. Depending on the type of rock and the amount of water, the characters of the gorges are different and offer several options for canyoning tours, from easy to difficult.
A Canyoning Tour takes you far away from everyday life and really clears your mind. Equipped with a wetsuit, neoprene socks, helmet and harness, we follow the natural watercourse of the mountain streams. Canyoning is very diverse, as it includes several outdoor sports: swimming, jumping, rappeling, climbing and walking. At the same time, you have the opportunity to admire the wonderful rock shapes from an unusual perspective and to bathe in the crystal-clear mountain water. Or to find deceleration and tranquility with a relaxed hike in the river waters.
There are tours for families with children, for beginners, advanced and those who want to explore their limits. Whatever level of challenge you choose: Canyoning is an unforgettable nature experience.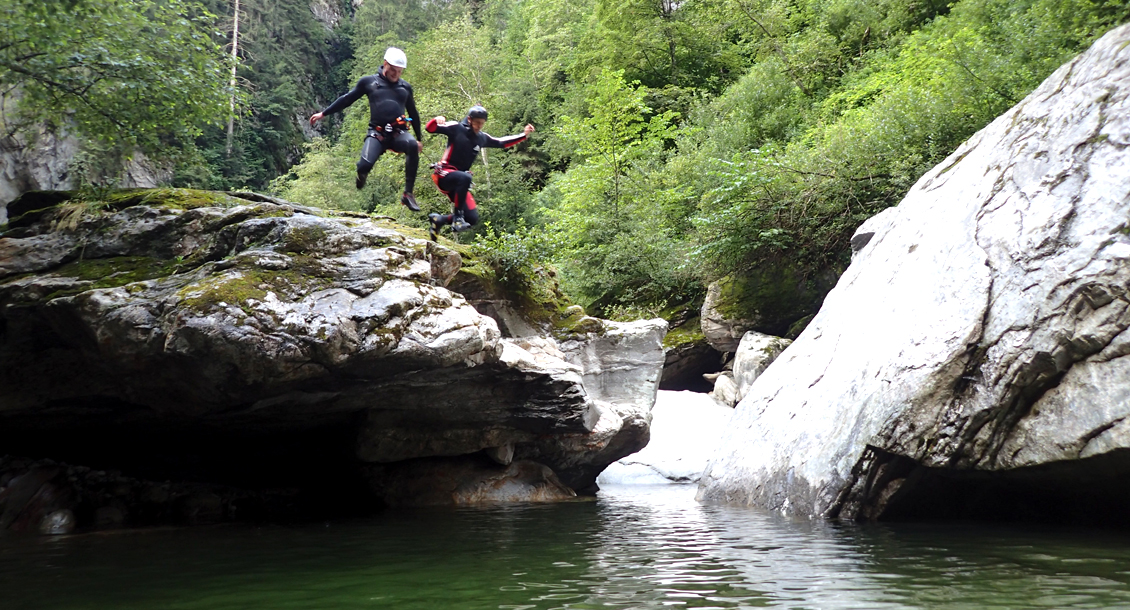 There is gorges for all tastes, you can choose from more or less water or even dry canyons. Some gorges consist of many rappel sections, others offer countless opportunities for jumps from different heights. Some are mainly to be done by swimming, between steep rock faces. Every canyoning tour is unique and a natural beauty.
Most popular canyoning destinations of our customers are: Tyrol, Upper Austria, Northern Alps in general, Lake Garda, region around Bassano, Slovenia, Pyrenees
Do you fancy cooling down and a manageable challenge? Let us know about your canyoning wish and we will guide you, throughout Europe, through the right gorge.